Apple Mac Studio geïntroduceerd
Door: Thijs Schouten | 9 maart 2022
---
De Apple Mac Studio, de snelste pc ooit!
Apple heeft op 8 maart 2022 de Apple Mac Studio geïntroduceerd, de snelste PC ooit! Deze nieuwe Mac maakt gebruik van Apples eigen M1 Max Silicon-chip waardoor de computer over zeer snelle prestaties beschikt. Naast een model met de M1 max chip komt er ook een versie met een nog krachtigere chip, de M1 Ultra. In deze chip zijn twee M1 max chips aan elkaar gekoppeld waardoor de rekenkracht van de computer nog beter wordt. Dit maakt de Apple Mac Studio de ideale PC voor het bewerken van grote fotobestanden of 8K video's. Sterker nog, volgens Apple kan je met gemak 9 8k ProRes-video opnamen afspelen. De droom voor iedere videoproducer! Ik als fotograaf begin nu in ieder geval toch echt te twijfelen om mijn Macbook met Intel chip in te ruilen…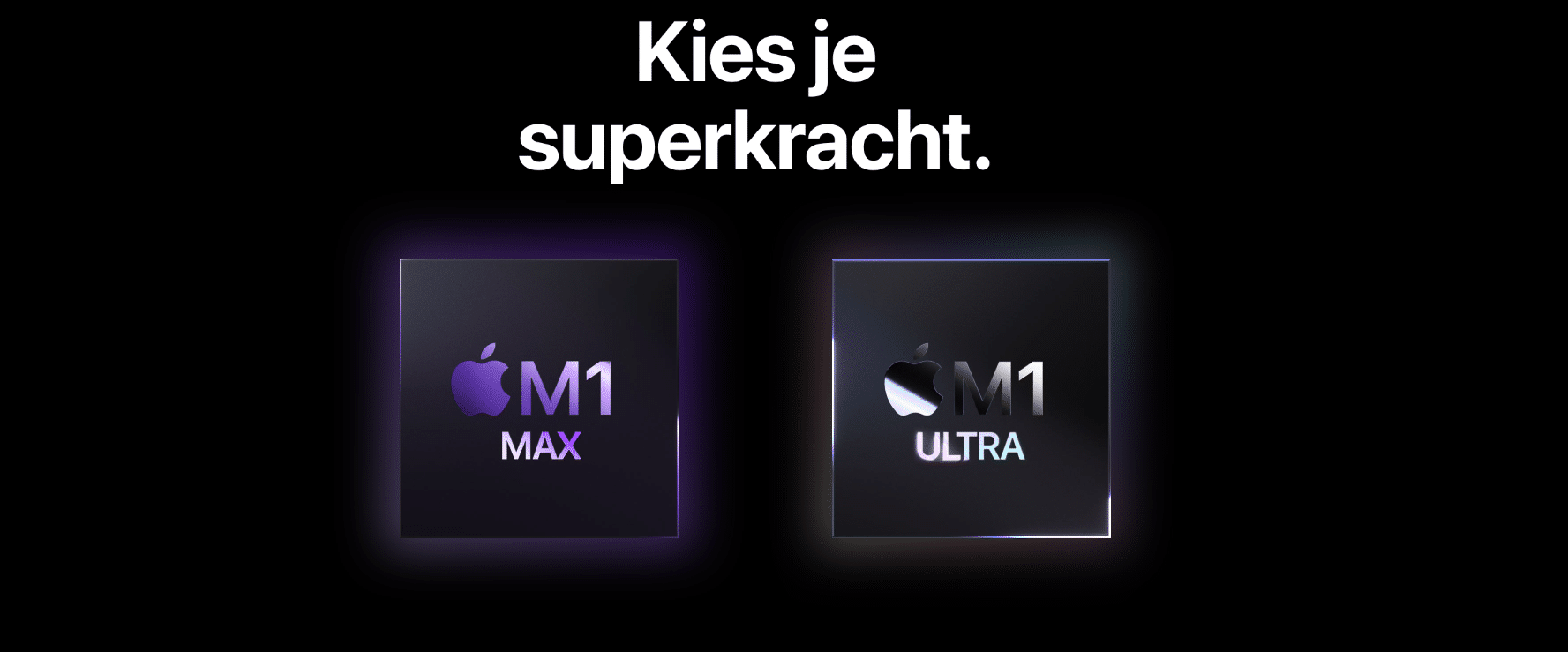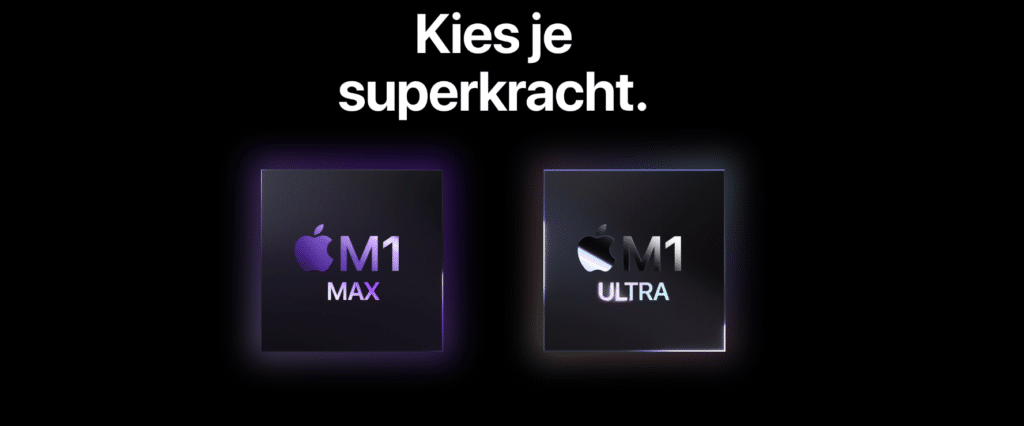 Het formaat van de Apple Mac Studio
Qua formaat is de Apple Mac Studio heerlijk compact waardoor hij weinig plek inneemt op je bureau. Het model is vierkant met een afmeting van 19,7 cm x 19,7 cm en een hoogte van 9,5 cm. Ongelofelijk dat Apple zoveel kracht in zo'n klein apparaat heeft weten te krijgen! En je hoeft je niet druk te maken dat de mac te warm wordt. De Mac is namelijk uitgerust met een compleet nieuw koelingssysteem. Zo haalt de Mac koude lucht vanuit de onderkant omhoog en blaast deze omhoog langs de chip. Hierdoor wordt de Mac goed gekoeld en zal hij niet warm worden bij het draaien van zware programma's. Verder zitten er ook veel aansluitingen op de Mac Studio waardoor je meerdere monitoren en andere randapparatuur kan aansluiten. Onderstaand een overzicht met alle aansluitingen.

Aansluitingen aan de voorkant:
2 x USB-C of Thunderbolt 4
1 x SDXC

Aansluitingen aan de achterkant:
4 x Thunderbolt 4
1 x 10-GB Ethernet
2 x USB-A
1 x HDMI
1 x mini-jack (koptelefoon)
Apple Mac Studio Tech Talk
Kijken we naar de technische specificaties van de Apple Mac Studio dan zijn deze zeer indrukwekkend. Zo is de CPU 2,5 keer sneller dan die van een 27 inch iMac uit 2020. Kijken we naar de grafische kaart, dan is deze 3,4 keer sneller dan de eerder genoemde iMac. Verder is de Mac Studio ook sneller dan de iMac Pro uit 2020. De CPU van de Studio is maar liefst 50% sneller en kies je voor de versie met M1 Ultra processor dan loopt je snelheid alleen maar verder op. Ben je een fotograaf of videograaf en werk je met grote bestanden? Dan is de Apple Mac Studio een ideaal werkpaard!
Qua geheugen kan je de Mac Studio zo configureren zoals jij het wilt. Opslag loopt tot 8 TB wat met een snelheid van 7,4 GB per seconde wordt weggeschreven. Het werkgeheugen begint bij het instap model met 32 GB maar kan uitgebreid worden naar maar liefst 128 GB. In combinatie met de M1 Ultra processor betekent dit in de praktijk dat je 18 streams met 8K opnamen tegelijk kan laten draaien. Bizar!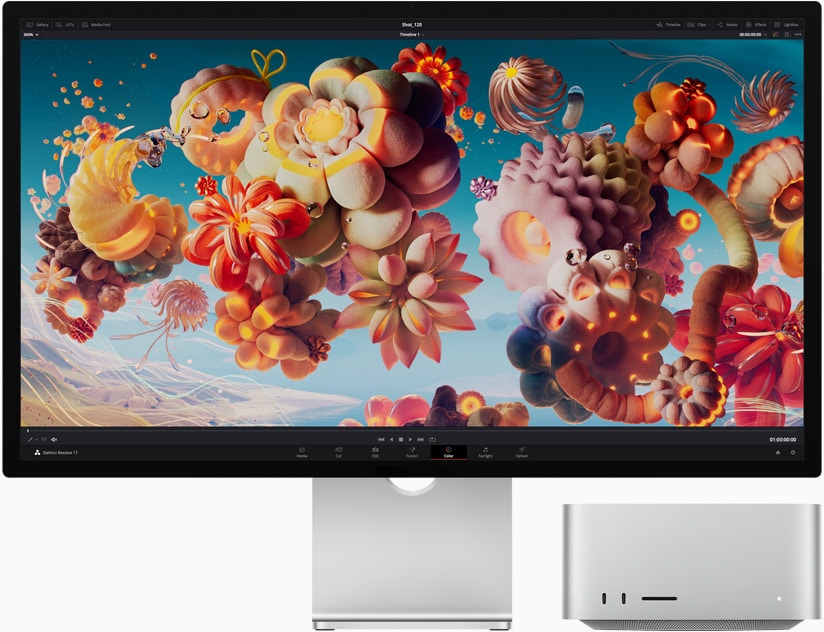 Apple Studio Display
Naast de Apple Mac Studio heeft Apple ook een nieuw display geïntroduceerd, de Apple Studio Display. Dit 27k scherm levert een hoogwaardig 5K beeld en beschikt over ingebouwde speakers en ook een camera (handig voor videobellen). Qua design ziet het scherm er geweldig uit en het sluit naadloos aan op de Apple Mac Studio. Ben je een Mac fan? Dan is het scherm een ideale toevoeging. Vraag je het mij persoonlijk? Dan zou ik toch eerder voor de nieuwe EIZO CG2700X gaan met 4K video resolutie.
Apple Mac Studio kopen?
Wil jij de Apple Mac Studio kopen? De Mac is vanaf 18 maart leverbaar en prijzen beginnen vanaf €2329. Onderstaand een overzicht met alle actuele modellen en prijzen.
Apple Introductievideo
Onderstaand de introductie video vanuit Apple over de Apple Mac Studio:

Hoeveel sterren geef jij dit artikel?